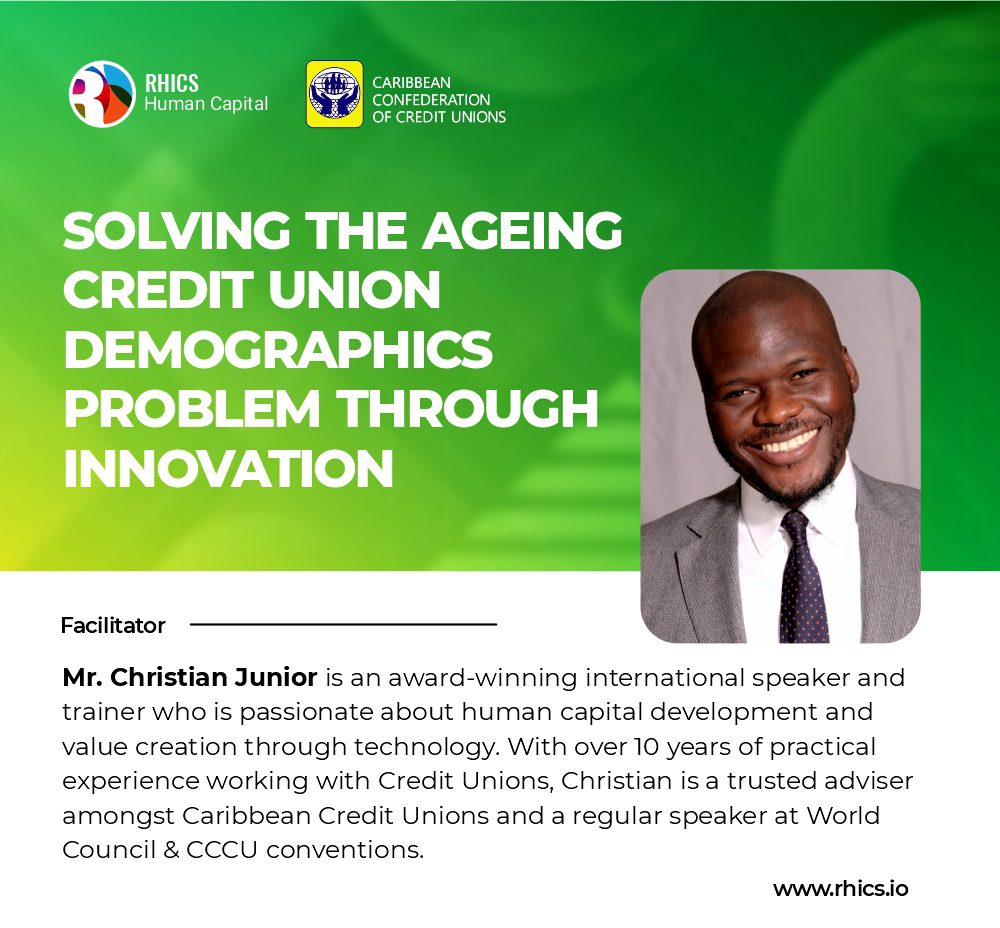 DIGITAL TRANSFORMATION
Solving the ageing Credit Union demographics problem through innovation
Learning Outcomes
Understanding the key principles and concepts of digital transformation, such as the impact of emerging technologies, the importance of data, and the need for customer-centricity.

Understanding the characteristics and preferences of Generation Z as a consumer group, including their digital habits, values, and attitudes towards brands and marketing.

Familiarity with the key marketing channels and tactics that are most effective for engaging Gen Z, such as social media, influencer marketing, and user-generated content.

The ability to create content and messaging that resonates with Gen Z's values and interests, such as authenticity, diversity, and social impact.

Understanding the importance of mobile-first design and optimization for Gen Z, including responsive web design and mobile apps.

Familiarity with the latest digital marketing tools and technologies that are relevant for targeting Gen Z, such as chatbots, augmented reality, and gamification.

The ability to measure and analyze the effectiveness of marketing campaigns targeting Gen Z, including metrics such as engagement, conversion, and customer lifetime value.

Understanding the role of social media influencers and user-generated content in Gen Z marketing, and the best practices for partnering with influencers and creating engaging user-generated content.

The ability to evaluate and select the right digital tools and technologies required to develop a Gen Z-focused marketing strategy that aligns with the brand's values and business objectives.

Familiarity with the legal and ethical considerations in Gen Z marketing, such as data privacy, brand safety, and transparency.

Understanding the evolving trends and future directions in Gen Z marketing, such as the rise of micro-influencers, the growth of social commerce, and the impact of emerging technologies like virtual reality.

Understanding the impact of digital transformation on various business functions, such as marketing, sales, operations, and customer service.

Understanding the importance of agile methodologies and their role in enabling digital transformation.

The ability to identify and overcome the common challenges of digital transformation, such as resistance to change, lack of skills, and cultural barriers.

Familiarity with best practices for digital transformation, such as designing a digital strategy, creating a roadmap, and measuring success.
Who Should Attend?
The course is designed for Credit Union stakeholders from board of directors to C-Suite executives, senior managers, managing directors, heads of departments, frontline staff, customer service teams, HR departments, compliance teams amongst others.
This programme is ideal and essential for Credit Unions that want to safeguard their future, attract new and younger demographics whilst exciting and creating value for its core members.
"The programme is structured to empower participants with the relevant skills via taught lectures, practical workshops and real-world case studies."
Programme  Outline /Module Breakdown
Identifying The Credit Union Members of the Future
Who are they?

Who are their influencers & friends?

Who is in their network?
Where are they?

Where do they spend their time?
What content do they consume?

What is their motivation?

What technology or platforms do they use

What motivates them to evangelize, influence their friends and advocate for the credit union?

What do they know about finance?
Why do they take loans?

Why & How do they save?

How do they engage and consume content?

How do they behave?
Developing Effective Strategies to attract Millennials and Gen Z:
Embracing Technology: Building Digital Banking Platforms for Gen Z

Creating Personalized Experiences

Enhancing Social Media Presence

Building & Involving Communities

Financial Education

Product Differentiation through Innovation

Flexible and Convenient Services

Leveraging Influencers

Embracing Social Responsibility & Causes
Introduction to Emerging Technologies
Artificial Intelligence in Financial Services

Open Banking

Blockchain & Cryptocurrencies

FinTech platforms

Payment platforms

Investment platforms

Savings & Loans

Marketplaces 
Credit Union Member Hyper-Connectivity
Advancements in technology have made mobile devices easily accessible. Mobile devices have facilitated the proliferation of social media and digital platforms, in turn shaping up the modern customer into a hyper-connected consumer. You will learn the characteristics of the hyper-connected member and understand how mobile innovation can add value at each touch-point of the member's buying journey.
Digital Transformation for Sustainable Growth
This module explores the 5 domains of digital transformation necessary to build a credit union for members of the future:
Members

Competition 

Data

Innovation

Value
Practical Workshop: Creating & Implementing a NextGen Credit Union Digital Strategy
Digital Transformation Case Studies
Guyana Public Service Credit Union (GPSCCU)
Prior to 2017, GPSCCU never actively utilised technology or digital platforms.
As a result, they had some challenges; the same challenges faced by many credit unions today. These include: ageing membership, low number of active members, long loans processing times, defaults in payments, limited branches & geographical restrictions, poor customer services, environmentally unfriendly "paper-based" modes of operation, difficulty in managing savings & loans accounts in real-time, just to name a few. 
We realised that almost all of the above could be addressed by incorporating effective digital Strategies and technology platforms towards value creation.
Today, GPSCCU has a digital presence with over 11,000 followers on social media where they actively service their members. They also now have an effective website.
Watch the video and visit www.mygpsccu.com for more.
Feedback & Testimonials from Participants
I just want to thank Christian for journeying all the way to Grenada to do this for us. I think it is a much-needed program at this point in Grenada where we are moving and transition into a time whereby everything is done online.
I am Carlon Gabriel from the Communal Co-operative Credit Credit Union. I am very happy I took this course. The coopetition idea is great and the platform business model. I do believe we should keep in contact. Thanks
Coming out of this training, I have a better understanding of the most cost-effective tools that I can use to market my business.
Avantgarde / Pan-American Life Insurance
I just completed the Digital Strategies for Business Growth course which was moderated by Christian. This guy is fantastic; he knows his stuff. His delivery mechanisms are fantastic. He's very conversant with the topic and I would suggest this course to everyone. My main takeaway from this course is that it has opened my mind…
I really enjoyed the practical approach to the class. Tremendous amount of information and hands-on exercises. Everything was excellent. This class has enhanced my digital marketing strategy for my business.
Cipriani College of Labour and Co-operative Studies
Very informative re: focus on providing products & services for younger persons being included in co-operatives to ensure succession & continuity. a well-appreciated session.
I must say this course has been very insightful and I would recommend it for anywhere who is serious about marketing and business growth.
Ariza Credit Union, Grenada
I loved the practical application of course content and quality of information shared. I have learnt how to implement social media campaigns, establish brand presence and create email marketing campaigns.
The greatest takeaway for myself and my team is that we're able to improve our inbound marketing and sale. Also, how to attract customers, convert them and close them.
Thanks for a great session!
Very detailed presentation, informative and precise.
Wedding Planner & Digital Marketing Course Delegate
I like the style of the facilitator. Conversational with practical exercises. The overall training was Excellent! I wish to gain customers and manage my social media pages; sharing more quality content.
Jamaica Co-operative Credit Union
Customization of products and services based on members' demographics is extremely important
BWU Co-operative Credit Union
Excellent session, and very informative.
The examples used were useful and eye-opening. I plan to review what our systems have now and make training a yearly event for this topic.
I contacted Rhics about a web design project, they quickly sent me one of their consultant who was very helpful. In a matter of days my emails were up and running I had myy logo and branding designed, and my website followed a couple of weeks later. They are expert designers, very efficient, professional and…
Communications Specialist, Barbados Financial Service Commission
Christian's brain works as quickly as the internet when it comes to digital strategies and marketing ideas. He was free with his advice and guidance and whatever else he thought would help us understand and implement the knowledge into our organisations' digital strategies. He has an interactive form of training that allows your learning to…
Principal, School of Higher Education Limited, Trinidad & Tobago
I am thrilled to share my experience working with Rhics Tech for our HubSpot integration, management, and training needs. Their expertise and dedication have truly transformed our business operations.
Rhics Tech seamlessly integrated HubSpot into our existing systems, ensuring a smooth transition and eliminating any disruptions. They took the time to understand our unique requirements and tailored the HubSpot platform to meet our specific needs. Their attention to detail and in-depth knowledge of HubSpot allowed us to optimize our workflows, streamline our processes, and enhance overall efficiency.
read more
Raymond Osheku Lagos, Nigeria.
I would like to commend you for the quality and volume of material you put together for the 2-day Digital Transformation Strategies course. I found every topic as a unique opportunity to expand my knowledge  and most importantly grow as a professional. As the Digital Marketing Personnel for my organisation, the strategies you taught has…
Fire Service Credit Union
The Digital Business Strategies training was very interactive. I will change my practice by implementing what I have learnt.
read more
I found the training in digital strategies for business growth to be a real and practical journey towards my organization achieving a competitive edge in the industry; the finance e industry. It really put in focus our strategic plans; how we target our customers and remain relevant in a digital marketing world.
Royds Williams Trinidad & Tobago
Testimonial:This seminar was timely and relevant for me because I've spent more time communicating online on a personal and business level. I found the facilitator to be knowledgeable in the subject matter and he was able to communicate the info in a simple and jovial manner. My awareness has risen toward possible online and physical…
Insurance Industry Credit Union
Great Session Today Thank you! One Thing: We must disseminate value on Social Media!
I have worked with Rhics for the last 7 years on several projects. They have always delivered on time and within budget. Their after sales support to deal with any issues is second to none. They branded our company over 5 years ago and we still work with this corporate ID today. Over the years,…
I've been to the business transformation course in Guyana. It was awesome and I encourage all of you to try and get digitally transformed.
MD - TERSUS Construction Ltd
We used Rhics for our web development and brochure design projects, I can confidently say that they were excellent. We have received plenty of compliments for the designs created by Rhics. I fully recommend them, best money you will spend. In fact we will use them again shortly for our online publicity and marketing activities.…
Public Service Credit Union
One of the things that stood out to me is the fact that in order for your business to be relevant in this technological age, you can use the different social media platforms to promote your business. It can help you to get more customers.
Managing Director SBN Human Capital, London UK
Since partnering with Rhics Tech, we have seen remarkable results. Our lead generation has significantly improved, and our sales and marketing efforts are now seamlessly aligned. The customized reports and analytics provided by Rhics Tech have given us valuable insights, empowering us to make data-driven decisions and continuously improve our strategies. Working with Rhics Tech…
I particularly liked the idea of not investing in brick-and-mortar structures but in digital platforms
Family Co-op Credit Union Limited
Thank you very much for sharing your heart on this subject. We needed to know all you shared.
Edward B. Beharry Group Guyana
The digital age is upon us. Guyana is an right now in the emerging state so internet boom will be upon us soon. Digital technologies, so to speak, should be adopted by everyone. We should transform our current ways of doing things and go digital because that is where the future is.
Jamaica Police Cooperative Credit Union Limited
The information was very insightful. scenarios were very real and relevant to today's business operating environment. I intend to use the knowledge to improve IT and Operational Risk Management across my organisation
Edward B. Beharry Group Guyana
I've learned that we don't need to fight our competition; we can cooperate to get a co-opetition.
Barbados Teachers' Co-operative Credit Union
Thank you it was very informative it brought great value to me the whole session
CEO, Global Insurance Services
Rhics Technology have been our IT consultants for over 5 years now. They developed our main website as well as websites for my other businesses. I have nothing but strong praise for their excellent service delivery and professionalism. Rhics consultants always go out of their way to ensure all our projects are delivered on time…
This training has revitalised and motivated me. Where I saw limits before, I now see so much potential and opportunity. Every area touched on was relevant, and is applicable in todays world dominated by social media. The teaching style is excellent and very engaging! It was intense, yet enjoyable. I intend to utilise all that…
read more
Ministry of Education, Guyana
One of the things I've learned so far from this training is that there are so many platforms that you could advertise your business or organization to earn more support or clients. We've learned a lot so far.
This program exceeds what I expect. The facilitator is very informative and knowledgeable. I will be reviewing what I have learned and compare to our current setup
I enjoyed the hands-on practical aspect of the course. I now hope to reach the international market through a dedicated digital business strategy.
The training is insightful and professionally delivered; it reveals the realities of customer behaviour in digital age
Thank you!!!! It was very insightful
Melissa Jones-Gittens Trinidad & Tobago 
The mere fact that I am a repeat customer is proof of how impressed I am with your delivery and my belief that the material that is being taught at your courses adds value to position my business in a lead position for profitability and to achieve its vision. I learnt new concepts and feel more…
read more
SVG Teachers Co-operative Credit Union LTD
The presentation was clear and easy to understand. The facilitator used real-life examples and even highlight current attacks that can and will affect us. I will be conducting an audit to ensure that our organizational practices are in line with the training and will assist in putting together a training for staff
St. Vincent and the Grenadines Financial Services Authority
It was very detailed and has caused me to think of ways our entity can improve our cyber resilience mechanisms, the aim of the programme was explained at the beginning and reinforced throughout the presentation
Goshen Training & Domiciliary Services
We highly recommend Rhics Tech for HubSpot integration, management, and training services. Their expertise, attention to detail, and commitment to delivering exceptional results make them the perfect partner for businesses looking to unlock the full potential of HubSpot CRM.
Dates & Times:
16th of May, 2023
11am – 5pm EST (St Kitts and Nevis time)
Course Fees:
$550 USD per person (early bird)
($750 standard price)
Contact Info:
Contact Person: Victor Samuel, Rhics Ltd
Email: victor@rhics.io
Phone: +44 740 123 2309
Whats App: +44 7750 301 221
Web: www.rhics.io
Christian Junior
Mr. Christian Junior is an award-winning international speaker and trainer who is passionate about human capital development and value creation through technology. He is the Founder & CEO of RHICS, an international Digital Agency headquartered in London, UK. He has over 10 years of practical experience in the Information & Communication Technology industry.
Christian, a double Oxford university certified Digital Marketing & Fintech strategist has consulted for multiple international clientele on various IT projects.
A firm believer in knowledge & skills transfer, Christian, travels around the world educating business leaders on cost-effective IT strategies for achieving excellent customer service, brand awareness, maximum productivity, and profitability. He has trained and influenced over 1,000 business owners across 10 countries in Europe, Africa & The Caribbean.
Christian has led conversations on Credit Union value creation through technology at The World Council of Credit Union & The Caribbean Confederation of Credit Union Conventions.
He was recently featured in the Financial Times 2019 list of UK's 100 most influential Black, Asian and Minority Ethnic (BAME) leaders in tech.
Rhics Technology
Rhics is a creative digital agency headquartered in London, UK with branches across 4 continents. We specialize in Digital Strategy, IT Consultancy, Cyber Risk Management, Digital Marketing, Social Media Management, Mobile & Web Application Development, Design & Branding.
We have a proven history of creating online success for global organizations via our suite of services offerings. We help define your goals, create effective strategies, build easy-to-use applications, and design award-winning systems that communicate the desired message.
Our process unites talent & passion with discipline.
We are committed to providing affordable Digital Transformation education to the world.